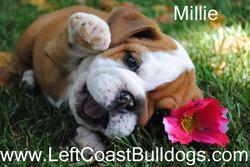 Left Coast Bulldogs
Breed:
Old English Bulldog
Owner:
Joe Aguirre
Website:
http://www.leftcoastbulldogs.com
Location:
Fairfield, California, United States
Phone:
707-689-7685
Email:
Email Left Coast Bulldogs
If you are looking for the most perfect, healthy, happy, wrinkly, stocky, finely bred English Bulldog Puppy (Bullie) you have come to the right place! Left Coast Bulldogs, your source for the finest bred AKC English Bulldogs in California Call Joe 707-689-7685 English Bulldogs for sale in California. Located in Fairfield CA. Near San Francisco Bay Area and Sacramento CA.

Left Coast Bulldogs - Puppies for Sale
Left Coast Bulldogs currently does not have any puppies for sale.
Some more information about Left Coast Bulldogs:
AKC English Bulldogs for Sale in California 707-689-7685
Joe 707-689-7685
Looking for the perfect English Bulldog puppy for sale? Look no further! Left Coast Bulldogs is your source for top quality, AKC English Bulldog puppies for sale in Northern California
When you adopt one of my English Bulldogs you get:
• Copy of veterinarian health statement (My Bullies are healthy!)
• Written 1 year health guarantee against genetic defects (I stand behind my Bullies!)
• Up-to-date shot record for your new English Bulldog puppy
• Care instructions and 24-7 phone support if you need my help with your new English Bull Dog puppy!
• Purebred AKC registration papers! Certified pedigree for your English Bulldog puppy!
If you're looking for the pick of the litter, we've got English bulldog puppies for sale with the championship characteristics you desire. Our litters of English bulldog for sale are wrinkly with a massive nose rope and overdone. Add one of these classic English bulldog puppy for sale to your family
English Bulldogs are special, English Bulldogs are different! My English Bulldogs are bred for health and temperament. Many champions in my English Bulldogs bloodlines. Visit www.leftcoastbulldogs.com or call Joe 707-689-7685 to come met the baby Bulldogs. I am local in Fairfield California, right between San Francisco Bay Area and Sacramento CA.
I accept cash, PayPal and all major credit cards with a 4% fee
A $500 deposit gives you priority pick of your English Bulldog puppy!
English Bulldog Breeder in California
If you are looking for the most perfect, healthy, happy, wrinkly, stocky, finely bred English Bulldog Puppy (Bullie) you have come to the right place! Left Coast Bulldogs, your source for the finest bred AKC English Bulldogs in California Call Joe 707-689-7685 or visit www.leftcoastbulldogs.com to see my available English Bulldogs for sale in California. Located in Fairfield CA. Near San Francisco Bay Area and Sacramento CA.

Estimated drive time to see my English Bulldog puppies for sale in California (in minutes): San Francisco 40, Concord 30, Sacramento 35, Walnut Creek 34, Napa 25, Alameda 55, Danville 42, Fresno 180, Hayward 66, Millbrae 71, Milpitas 77, Modesto 99, Oakland 48, San Jose 85, San Mateo 76, San Ramon 46, Santa Rosa 72, Stockton 66, Pleasanton 58, Discovery Bay 67, Santa Cruz 120, Monterey 155, Santa Clara 85, Cupertino 91, Sunnyvale 87, Los Gatos 91, Morgan Hill 104, Chico 141, Marin 74, Daly City 60, Davis 35, Dixon 27, San Leandro 59, Berkeley 45, Petaluma 56, Novato 46, Mill Valley 61, Brentwood 55, Castro Valley 61, Richmond 38, Vacaville 10, Palo Alto 91, Antioch 43, Roseville 70, Reno Nevada 180, Rancho Cordova 60, San Rafael 53, Emeryville 46, Sonoma 42, Fremont 75, Woodland 46, Manteca 46, Tracy 84, Folsom 73, Yuba City 104, Placerville 90, Vallejo 26, San Pablo 37, Elk Grove 61, Redwood City 83, Watsonville 130, San Bruno 66, Dublin 51, Citrus Heights 65, Burlingame 71, Pittsburg 38, Pinole 32, American Canyon 24,