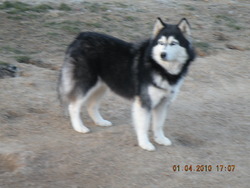 Puppy Lov Kennels
Breed:
Siberian Husky
Owner:
Pat Gilley
Website:
Location:
Gadsden, Alabama, United States
Phone:
256-494-9433
Email:
Email Puppy Lov Kennels
We sell beautiful, FULL AKC reg. Siberian Husky puppies, vet checked, de-wormed, aand 1st shotswith most having blue eyes. Colors are red/wh., gray/wh. black/white and some solid white. We except credit cards, checks, money orders, layaway payments, Western Union, and Walmart moneygrams.
Puppy Lov Kennels - Puppies for Sale
Puppy Lov Kennels currently does not have any puppies for sale.
Some more information about Puppy Lov Kennels:
Puppy Lov Kennels
We raise Siberian Husky Puppies, they come with FULL AKC reg., 1st shots, vet checked, and de-wormed. Microchiping is available for an extra fee.Colors available are red/wh., gray/wh., black/wh. and some times solid white. We normally have some puppies or have some on the way. We are constantly taking deposits for upcoming litters. We have a puppy nursery called the "Puppy Palace, it is a 10 by 20 ft. building that has 5 bins, doggie doors to outside kennels, heat and air conditioning, ceoing fans, a bath area, and a offfice area. Our out kennels are on a 25by50 ft. concrete pad with tarps for shade and 3 big fans. The kennel doors are usually left open, so the dogs can go in and out in the a large fenced in play area. They also have a bathtub, that use to get cooled off in the summer time. Price is $550.00 plus $350.00 if shipping is required. Microchipping is $40.00, that includes a lifetime enrollment in the AKC Lost & Found Program.