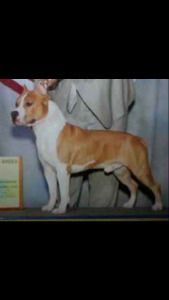 Cicero Kennels
Breed:
American Staffordshire Terrier
Owner:
Cicero Kennels
Website:
http://ciceroamstaffs.tripod.com
Location:
CONLEY, Georgia, United States
Phone:
4046646926
Email:
Email Cicero Kennels
Top AKC AmStaff Kennel producing puppies for companionship or show. We're known for our impressive looking dogs with exceptional temperaments. Even though we show or dogs we place many show qualify dogs with loving pet homes. Parents are always health tested. We offer full guarantees on both health and temperament. Worldwide references available!
Cicero Kennels - Puppies for Sale
Cicero Kennels currently does not have any puppies for sale on PupLookUp.
Some more information about Cicero Kennels:
If you are interested in a Cicero puppy, please contact us to find out more about upcoming litters and puppy availability. If we don't have anything at the time you inquire, we can add you to our mailing list to keep you updated on future breedings/puppies. Beware of kennels that continuously breed litters without health testing (see www.offa.org) and do not participate in any dog events.
All sales are on a first come first serve basis and are only secured once a deposit is received. Everyone looks for different qualities in their new family member so placement on our waiting list does not mean indicate order, only interest.
When e-mailing us please be as specific as you can about what you are looking for in your puppy and include information about your family and lifestyle (are you active, etc). Our goal is to match you with the puppy that will meet your expectations and fit in well with your family.
Our puppies are whelped and raised indoors around our children, French Bulldogs, and other AmStaffs. We are Georgia's oldest AmStaff Kennel with puppies all around the world!
We guarantee that our puppies are healthy and free of contagious illnesses at the time of sale. I am a vet tech so our babies get the best care! Our puppies are dewormed regularly, up to date on shots, and on a montly heartworm and flea control. We recommend contacting your veterinarian to discuss their puppy shot protocol as the shots needed vary by location and frequency varies by vet and brand of shot they use.
We also offer other guarantees on our puppies and dogs. Our dogs and puppies are guaranteed not to have a life-threatening or crippling hereditary disease and are guaranteed to have stable temperaments that are good with people. We also guarantee puppies sold as show dogs will finish their championship, something most breeders will not do. Should our puppies/dogs not live up to their guarantees we will replace them at no cost to you.
We highly recommend that if your breeder lives within a reasonable distance that you visit them and meet their dogs. AmStaff breeders value different temperaments for different reasons and it's important your companion is everything you are looking for.
Ataxia Information ~ Cerebellar ataxia is a degenerative disease of the brain that affects American Staffordshire Terriers and American Pit Bull Terriers. Over the last few years a test has been developed to determine if the dogs are carriers of the disease, affected by it, or clear of the associated gene. The only way to produce an affected dog is to breed two carriers together, a carrier to an affected, or an affected to an affected. Puppies from at least one clear dog can NEVER be affected by the disease and, at worst, are simply carriers. Therefore, many breeders are making the decision to breed clears to carriers if it means maintaining correct temperament, type, and health.
Warning: When buying an animal, safely meet the seller in person. Never purchase an animal sight unseen.