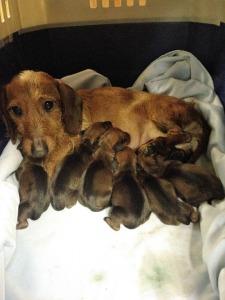 www.akcdachshundny.com
Breed:
Dachshund
Owner:
AKCDACHSHUNDNY
Website:
http://www.akcdachshundny.com
Location:
middletown, New York, United States
Phone:
8454019530
Email:
Email www.akcdachshundny.com
WHAT SETS US APART FROM OTHER BREEDERS!! We only breed and sell top quality dachshunds. We breed standard and miniature. We are Usda license 1106 and Akc inspected. We give you a 1 year health guarantee on all our puppies as well as vet check, shots and dewormed with an Albon preventative. We are here for the life of your dog. We also donate to local shelters and rehabilitate dogs. When you purchase from this breeder you are also helping to save a life in a shelter...so no guilt. It's our job to bring families together with their newest member. With over a decade of experience my website teaches you about,color, coat,training,food, health care and the breed. We prepare you for your new companion with a puppy kit that surpasses all.we breed smooth,wire and long coats. Every color except the health risk problems of double dapples,blue and Isabella's. we prefer not to breed dapple-piebalds. they cannot be registered correctly and so many BAD BAD so called BReeders are passing off DD as dapple pies!..not here its rare for one to pull back those lines. We love to talk dachshund and educate you so call anytime whether you are a new breeder who needs a midwife or a client welcome your inquiries.... With over 19 pages of happy homes we have an excellent reputation with a 100 percent customer satisfaction. With this breed lineage is very important not price so pick up the phone and set up an appointment to meet your home raised Akc puppy and fall in love. Our customers almost always come back with our discount within a year for a second companion. Please give us the honor of completing your family. Most of our puppies are housebroken within 10 days of leaving because they are handled daily. Got kids, large dogs,cats..?....no worries they have already been acclimated ! I hope you choose Akcdachshundny for all of your dachshund buying needs. Here we sell the show dog quality health and companions to the average pet owner...we sell security ,longevity,customer satisfaction and love. Here we bring families closer! Here we care. We take back any of our dogs for any reason at any time w/o refund as long as it does not have a contagious disease. Need to move or rehome? We hate to see this happen but we will help you advertise and find your love a new family. We understand that life is unpredictable .And we pride ourselves on being here to help. We love seeing our puppies grow into dogs over the years. We encourage you to look at pedigrees and past puppies. We will not ship our dogs or puppies. We do not allow strange dogs to visit to help protect your companion. We do everything in our power to make sure you have a great experience and recommend us to all your friends. Our foundation has been built on word of mouth! Our vet does home visits when possible to lessen the exposure to contagious illnesses. Here we give you the rarest quality of all. We are honest. I will tell you everything about your puppy or dogs background to be sure you are committed especially when placing a retired adult or rescue . Stop spending money on puppymill pet stores or unlicensed uninspected people who ruin a breeders name. Who cannot replace your pup, or has no contract, who may never pay even if u win in small claims court! Our companions are an investment. We are proud of every puppy we hand deliver!!!!! And our reputation and forever homes is the proof. U can see actual real customers reviews,photos and praise! Don't skimp when it comes to your new family member, spending $500 more now can save u $5000 later in vet bills and heartache. I get those calls too many times and every time it breaks my heart. Here we love what we do and we want you to love us too! we give discounts on repeat customers, buying more than 1 puppy, recently lost your pet? battling cancer? we discount for that too. We know how that feels. my website is dedicated to my Riley who graced us with her love for over 15 years! when u visit you can visit her ashes...old clients remember her love! Here we are family! call and find out what your perfect match is...We sell hypoallergetic wires too! We love to educate...many people do not realize Dachshunds are pack animals.. they are pronounces "dock-sund" meaning badger dog in German .each coat and color has its own unique set of traits from the comedian to little miss independant to the mommas boy to the elegant king...We can help you find your perfect match...Its what we live to do! We will not ship WE ARE LICENSE #1106
www.akcdachshundny.com - Puppies for Sale
Some more information about www.akcdachshundny.com:
-ALL OUR DOGS ARE AKC UNLESS OTHERWISE STATED.
-WE BREED STANDARD,MINI, LONG COAT, SMOOTH COAT AND WIRE COATS….
– THEY ALL ARE CRATE TRAINED WITH AWESOME TEMPERMENTS.
-WE SOCIALIZE OUR DOGS DAILY WITH CHILDREN AND CATS.
– YOU CAN EXPECT A QUALITY PET WHEN YOU PURCHASE ONE OF OUR PUPPIES.
– WE BREED FOR TEMPERMENT AND QUALITY.
-WE ARE LOCATED near MIDDLETOWN, NY.
– WE WILL SHIP NEVER SHIP! WE WANT TO MEET YOU
– FOR AN ADDITIONAL FEE. WE HAVE DELIVERED TO NYC, WESTCHESTER, SYRACUSE, POCONOS ETC.. FOR MORE- IF
– ALL OF OUR BOYS ARE ALSO AVAILABLE FOR STUD
-ALL OUR PUPPIES ARE SENT HOME WITH PROOF OF VACCINATIONS AND DEWORMING.-EXAMINED BY A LICENSED VET
-THEY ARE ALSO SENT HOME WITH AN INCREDIBLE PUPPY KIT FOR YOU
-PURCHASING A DACHSHUND IS LIKE PURCHASING A FAMILY MEMBER. IT IS FOR LIFE. IF YOU FIND THAT YOU ARE UNABLE TO KEEP YOUR ANIMAL FOR WHATEVER REASON, WE WILL GLADLY TAKE IT BACK, BUT NO REFUND WILL BE GIVEN.
-ALL OUR ADULTS ARE FULLY VACCINATED INCLUDING BUT NOT
LIMITED TO RABIES, PARVO, GUIARDIA, BORDATELLA
WE BREED ALL CHAMPION LINES AND SELL TO PEOPLE WHO ONLY WANT THE VERY BEST AND ARE WILLING TO PAY FOR IT…
Warning: When buying an animal, safely meet the seller in person. Never purchase an animal sight unseen.