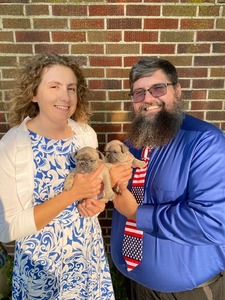 RickJenn Frenchies
Breed:
French Bulldog
Owner:
RickJenn Frenchies
Website:
http://rickjennfrenchies.com
Location:
Union City, Indiana, United States
Phone:
765-748-0797
Email:
Email RickJenn Frenchies
RickJenn Frenchies is an ethical French Bulldog breeder in Indiana and we have French Bulldog puppies for sale. Our goal is to provide healthy, happy and trained puppy companions for you and your family. We offer a lifetime Health Guarantee and lifetime support for you and your new French Bulldog puppy. Let us personally match you with your new family member!
RickJenn Frenchies - Puppies for Sale
RickJenn Frenchies currently does not have any puppies for sale on PupLookUp.
Some more information about RickJenn Frenchies:
We are Rick and Jennifer Root and we began RickJenn Frenchies because we truly love French Bulldogs. When we got our first Frenchie, Evie, it was instant love. We have always had four-legged family members of the canine variety, but until our first Frenchie came along, we had never found the perfect fit for our lifestyle. We discovered that the French Bulldog is a great companion for anyone from an individual person in a small apartment to a big family with kids and other animals. They are fun-loving, comical, intelligent creatures that will bring you joy each and every day. They love to run and chase after toys, but also are great cuddlers and are very affectionate. And at around 20-25 lbs. they are a great size to have around the house or as a travel companion. Sounds like the perfect furbaby, right? Well, they can be a little stubborn when it comes to training. I, Jennifer, am a Certified Dog Obedience Trainer as well as a breeder so I can tell you that it is important to begin training early and be consistent with your training. As long as the French Bulldog knows what is expected of him/her, you should have little or no issues with training.
So, you may ask, why did we decide to breed French Bulldogs? Once we began researching the breed, we discovered that the Frenchie can have some health issues. We found out that Evie needed some extra TLC that our other dogs didn't need, like frequent cleaning of her tail pocket and wrinkles and seasonal allergy medicine. Evie is a healthy example of the breed even with these minor issues, but through our research and FaceBook group involvement we realized that many Frenchie parents weren't as fortunate as we were. We decided at that point that we wanted to breed French Bulldogs to better the breed. We wanted to produce healthy puppies so that our puppy buyers can have the same wonderful experiences that we have had and can truly enjoy this wonderful dog without worrying about health issues. That is our primary goal – to provide a healthy, happy French Bulldog puppy that is a perfect fit in your home for his/her life.
To achieve our goal to provide a healthy puppy, we continue to do research, we network with other respectable and ethical breeders, we ask advice from our vet and we learn from our own experiences. We now realize how crucial it is to perform health testing before the first breeding ever occurs, so we do genetic testing along with OFA screenings on our dogs. We know that starting with healthy dams and choosing to breed them to compatible studs is the most ethical way to eliminate health issues. We do not inbreed or line breed and we do not overbreed. Doing all of these things allows us to offer a Lifetime Health Guarantee against life-threatening genetic diseases that are known to affect French Bulldogs.
To fulfill our goal to provide a happy puppy we implement several techniques that have been proven to help a puppy during development. Beginning at just a few days old we handle them in specific ways to teach them how to deal with stress. We socialize them at the correct stages of growth so that they are familiar with different sights, sounds, textures, environments and animals. We begin potty training at just a few weeks old and each puppy is conditioned to a crate and chew toys. All of these things help each puppy to be less fearful and more confident in their new home. We also observe each puppy to determine what personality traits each one has. Some are naturally more laid back where others are more excitable. They are all lovable but if you have a preference, we will match you to your puppy for a perfect fit.
Our jobs are not done when each puppy goes to his/her new home. We also provide our Frenchie families with lifetime support. We want to be in contact often to ensure that your puppy is everything you want and more. There's a lot to know about this breed if you are a novice, and we desire to help in any way we can. You see, we are a Christian husband and wife team who have your best interest at heart. We strive to please God in all that we do, including dog breeding. In the NLT Bible Proverbs 16:3 says, "Commit your actions to the LORD, and your plans will succeed." We want to have a successful breeding program, and we want you to be confident that you have made the right choice when you choose RickJenn Frenchies.
Now that you know what we are about, visit us at https://www.rickjennfrenchies.com to see our dogs! We live and love the Frenchie life and we want you to experience it with us! Give us a call or message us. Thank you and God bless!
Warning: When buying an animal, safely meet the seller in person. Never purchase an animal sight unseen.