Greater Swiss Mountain Dog
Greater Swiss Mountain Dog Breeders
Where you looking for a list of Greater Swiss Mountain Dog puppies?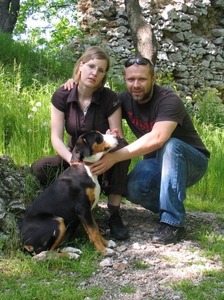 Breed:
Greater Swiss Mountain Dog
Owner:
sennenhunde
Website:
http://www.sennenhunde.eu
Location:
Bratislava, Slovakia
Phone:
+421907162555
Email:
Email SWIPER S
We breed our dogs under the rulse of the Slovak Club for Swiss Mountain Dogs www.kssp.sk registered under SKJ - Slovenska kynologiska jednota- www.skj.sk - a member of the FCI - Federation Cynologique Internationale (www.fci.be). We breed swissies over 18 years. Our Swissy's are members of the family and live with us in our home.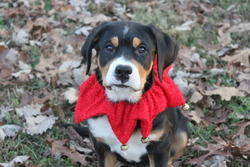 Breed:
Greater Swiss Mountain Dog
Owner:
Ellyn Signet
Website:
http://www.dufenhof.com
Location:
Rixeyville, VirginiaUnited States
Phone:
(540) 937-7956
Email:
Email Dufenhof Swissies
Carefully breeding beautiful Swissies for twenty years and proud to be an AKC Breeder of Merit. Good health and gentle, loving temperaments are a top priority EVERY time we plan a breeding. We love our Swissies and think you will, too! Many of our Swissies are AKC Champions, a few have earned working & obedience titles. We are very proud of the fact that all of our dogs have earned these titles handled by amateurs rather than relying on professional handlers. But most important of all is that they are also happy, loving family members. Ribbons and awards are nice, but snuggling with your Swissy on the couch is best of all. With every breeding we are aiming for perfection. While there will never be a perfect dog, we do hope to get closer with every generation. We are dedicated to preserving the traditional good looks Swissies are known for as well as good health and sweet dispositions. Our breeding dogs are health tested (OFA/CERF) and are never bred before the age of two. Member GSMDCA; All dogs AKC Registered You can visit our website (www.dufenhof.com) to learn more about our dogs as well as the most up-to-date information. Please contact us via phone or email regarding currently available puppies/adults as well as future litter plans.
Breed:
Greater Swiss Mountain Dog
Owner:
Dana
Website:
http://www.greaterswissies.com
Location:
Hockessin, DelawareUnited States
Phone:
302-540-9860
Email:
Email Simply Swissies
Family raised AKC Greater Swiss Mountain Dog Pups occassionally available. PLease visit website for more information. All inquiries welcome. greaterswissies.com greaterswissies@yahoo.com