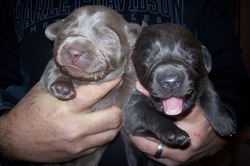 Chrome Kennels
Breed:
Labrador Retriever
Owner:
Cheri Klumpp
Website:
http://www.chromekennels.com/
Location:
Newfane, New York, United States
Phone:
716-870-1661
Email:
Email Chrome Kennels
Breeder of finest AKC Silver and Charcoal Labrador Retrievers in Western New York. We are a small, intimate operation who's SOLE purpose is to provide the best quality hunting Lab in a most unique color to loving homes. Our dogs are ALL fmaily pets and DO NOT grow up or live in a kennel- hand whelped and handled from the beginning to assure a stable, trusting dcompanion.

Chrome Kennels - Puppies for Sale
Chrome Kennels currently does not have any puppies for sale on PupLookUp.
Some more information about Chrome Kennels:
PUPPIES NOW AVAILABLE…SILVER, CHARCOAL, SILVER FACTORED CHOCOLATE AND BLACK AKC LABBIES READY FOR YOUR PICKS- TO GO HOME MID/LATE JANUARY!
Welcome to Chrome Kennels…est in 2008 with our charcoal boy Ruger…we have now expanded to 7 dogs…some breeders…some not. Let me introduce you to our crew.All our labs are named after guns. With the exception of Maggie, she was first, before we came up with the idea (can you tell hunting is a BIG influence) there is Ruger, Remington, Benelli, Mossberg and Kimber. Toby doesn't count as she is a Golden! Read on………..
Ruger– is our only boy here..he has it made as the sole stud to 2 (and soon) 4 breeding females. He is a big, blocky boy of 90 lbs. His is of OFA Excellent and OFA Good parentage- he will be OFA'd himself this spring! He has thrown some BEAUTIFUL puppies. He has a laid back temperment and always the gentleman letting the girls go first- may it be to the food bowls or toys! A proven hunter of pheasants!
Maggie– is our oldest breeding Lab @ 4 years old- she is a chocolate. She is OFA EXCELLENT! She is of medium build, aprox 75 lbs and has a very loving, eager to please personality. Her coat is a deep. dark chocolate color and smooth as silk!
Remi– is our silver girl. An ultra light silver in color and 70 lbs., she is an ever-ready bunny in the fields when it comes to hunting! She has a beautiful, chiseled profile (picture on homepage) and a muscular, taught body. She is of OFA Good parentage.
Kimber and Mossy are both silver and are our 2 upcoming breeding girls…currently @ 5 and 7 mos of age they have some growing to do…and are going to be some beautiful girls. We have some high hopes for these youngsters- both from very strong hunting backgrounds and OFA approved parents!
Nelli– is our silver nanny…we had hopes for Nelli to be a momma for us- but her hips did not fair very well….she has been "fixed"…so she is now the resident "nanny" to new puppies and litters! We love her just the same!
Toby is the matriarch…@ 8 years old she was here BEFORE any of the labs! She is our big (125 lb) Golden Retriever that keeps all the young ones in line!
We breed our girls only once a year (every other heat) if that…for the health of the momma and babies! You get a better, more sound pup that way! Every attention is given to the expectant girl and babies once they arrive- it's a full time job aside from my real full time job- but I LOVE IT and wouldn't have it any other way. You get out what you put into it!
Well, that's the crew…all being lovingly watched over by my husband and myself…Doug and Cheri Klumpp. We hope you will visit our website..www.chromekennels.com so you can see pictures of all our dogs as well as any updates on upcoming litters or progress of current ones!
We can be reached for questions/inquires @ chromekennels@yahoo.com. I hope someday we can help provide you with a best friend!
Warning: When buying an animal, safely meet the seller in person. Never purchase an animal sight unseen.