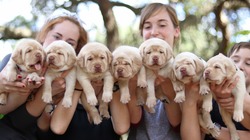 Miller Family Labradors
Breed:
Labrador Retriever
Owner:
Bentley
Website:
https://www.millerfamilylabradors.com/spring2021litter
Location:
Sarasota, Florida, United States
Phone:
Email:
Email Miller Family Labradors
We work hard to raise happy, healthy, AKC Labrador Retriever puppies that will make great family dogs and lifelong companions.
Miller Family Labradors - Puppies for Sale
Some more information about Miller Family Labradors:
Early Potty Training
Potty training for our puppies begins at 3 weeks. We start out by giving them their own potty station. They quickly learn that there is a place to sleep, a place to play, and a place to relieve themselves.
At 6 weeks, we begin taking them outside to go potty on a frequent schedule. They learn to hold it until that time. They are doing really well as far as accidents, by the time they leave for their new homes at 8 weeks!
This takes us a lot of extra time and effort, but it sets a wonderful foundation for our puppies, and gives you a little more confidence in bringing home your new puppy.
BARF (Biologically Appropriate Raw Food) Diet
We no longer feed our Labs dry kibble. We feed a raw diet consisting of raw meat and veggies plus some oils and a few natural supplements that support a strong immune system. Our Labs have been thriving on this diet! Feel free to contact us, and we can give you more details.
We will start these puppies on this all raw diet around 4 weeks, not on kibble. We highly encourage you to choose to continue to feed an all raw diet to your new puppy!
Later Weaning
One thing we do very differently from other breeders, is weaning time. Most breeders start weaning their puppies at 3 weeks, and they're fully weaned by 4 weeks. This is way too early, as they still need those important nutrients and antibodies from their mother. Actually weaning this early, can stunt their growth. We have gotten many comments on how big our puppies are, and we believe weaning later is the biggest reason why. We allow our puppies to nurse until 7 weeks when we begin to wean them, and they are fully weaned at 8 weeks. This allows them to get that important nutrition as long as possible, building their immune systems.
Warning: When buying an animal, safely meet the seller in person. Never purchase an animal sight unseen.