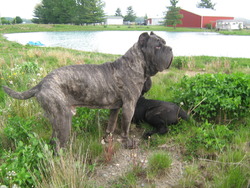 Your Best Friend Neapolitans
Breed:
Neapolitan Mastiff
Owner:
JC
Website:
Location:
Wauseon, Ohio, United States
Phone:
(419) 335-0646
Email:
Email Your Best Friend Neapolitans
We have awesome loving Neapolitan Mastiffs. They have an excellent Pedigree with Championship Blood lines. They fill our home with love and could do the same for yours too. They will be your best friend and fill your life with joy. We have an AKC and NKC STUD AVAILABLE and PUPPIES coming soon.
Your Best Friend Neapolitans - Puppies for Sale
Your Best Friend Neapolitans currently does not have any puppies for sale on PupLookUp.
Some more information about Your Best Friend Neapolitans:
We Have an AKC and NKC Stud Available Also
Puppy at only a couple days old. (Taking Deposits…)
This is the Grandfather of the puppies.
(a world known champion)
Rio Del Saratoga
• Best of Breed in Argentina
Neapolitan Mastiff Appearance
The Neapolitan Mastiff is a giant of a dog, and has a very muscular and rugged build. His huge face has drooping jowls, and this gives him a grumpy expression, which coupled with his size would put off the bravest of intruders. The coat of the Neapolitan Mastiff is close fitting, short, and sleek, and the coloring includes gray, blue, mahogany, tawny, or black, sometimes with brindling. The weight of the Neapolitan Mastiff is around 110-134 pounds for females, and 133-160 pounds for males. The height is around 23-28 inches for females, and 25-30 inches for males.
Neapolitan Mastiff Temperament
The Neapolitan Mastiff is a very loyal, devoted, and protective dog, making him the ideal choice for watchdog and guard dog duties. They are not fighters but their looks alone will ward off any intruders. But if needed, these dogs will defend their loved ones to the end, and have plenty of courage and determination, along with the size and brawn to back it up. The Neapolitan Mastiff will shower love and affection on his family. This is not the dog for those that cannot commit to a pet, as he needs attention and affection from his owner. The Neapolitan Mastiff should be socialized early on in order to promote stability, and to reduce the risk of timidity or aggression. These dogs get along well with children and can get along well with other family pets with early socialization. These huge dogs do not like strenuous exercise, but regular moderate exercise is important for his health and fitness. Plenty of space is needed, so this is not the right dog for apartment life. A spacious, safe, and secured area should be provided for the dog to enjoy fresh air and exercise. The Neapolitan Mastiff is very intelligent and learns very quickly.
Neapolitan Mastiff Grooming
The Neapolitan Mastiff is a low maintenance dog when it comes to grooming. His coat needs to brushed occasionally in order to keep it looking sleek and in good condition. These dogs are also low shedders, and therefore may be suited to allergy sufferers.
Warning: When buying an animal, safely meet the seller in person. Never purchase an animal sight unseen.