Norfolk Terrier Breeders
Where you looking for a list of Norfolk Terrier puppies?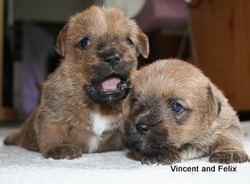 Breed:
Norfolk Terrier
Owner:
Magdolna Nagy
Website:
http://www.norfolkterrier.hu
Location:
Budapest, Hungary
Phone:
+36309825586
Email:
Email Norfolk Terrier's Caliber Kennel
This is the first litter was born in my kennel although I am an old breeder of other terriers . The mother and the father are from the Belleville kennel. They have highly qualifying results and fantastic genetic background. The father is European and Hungarian Champion Belleville Jet, black and tan color. The mother is the Beleville Windflower, red color. I gladly make an offer to you in case of any requests in e-mail.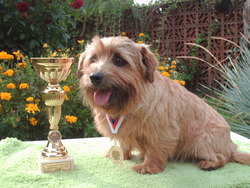 Breed:
Norfolk Terrier
Owner:
hblahova
Website:
http://www.moravskysternberk.cz/uk/index/puppies
Location:
Sternberk, Czech Republic
Phone:
+420725524725
Email:
Email FERUS VESPER kennel
We are small kennel of Norfolk terriers who are living with us in our house. All of our dogs are members of our family and we are very proud of them. Our dogs are very successful on dogs shows, Becky of Meggy is the first Grand Champion Norfolk terrier in our country. She is also multiple Champion and C.I.B.. We were lucky to import very promissing boy from Kinsridge/Belleville blood and he finished his Junior Champion title before he was 1 year old. Now he is Czech Champion, Slovak Champion, Terrier club junior Champion, Club Champion, Czech Grand Champion and Interchampion (C.I.B.) At European dog show in Brno (2014) won the European junior winner title. We were also very lucky to import excellent boy from UK, who won many champion titles and is excellent father of our puppies. Some of our dogs aren't successful only in dog shows, but they have very good results also with canis therapy, agility, dog dancing and obedience.