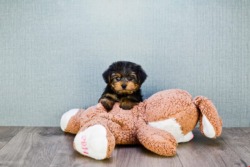 teacup kennel
Breed:
Yorkshire Terrier
Owner:
teacupkennel
Website:
http://www.teacupkennel.com
Location:
newyork, New York, United States
Phone:
2052038643
Email:
Email teacup kennel
DESCRIPTION Commonly referred to as the "Yorkie", the Yorkshire Terrier is a small dog with plenty of spark and personality. One of the most popular dog breeds in the United States, the Yorkie has a long silky coat that is steel-blue and tan in color. Used primarily as a companion dog, the Yorkshire Terrier is self-assured and fearless, while being very affectionate toward its owner. They love lots of attention and don't like to be left alone for long periods of time. Due to its small size and occasional skittishness, the Yorkie functions better with older children that have learned how to treat animals. TEMPERAMENT Alert, Courageous, Energetic, Loyal, Intelligent, Independent and Playful SIZE AND LIFE EXPECTANCY Adult Weight:4-6 lbsAdult Height:8-9 inLife Expectancy:10-16 yrs Maintenance Low Grooming should be performed often to keep the dog's coat in good shape. Professional groomers can be sought after for assistance. Occasional trimming or stripping needed. Training Easy Hypoallergenic breed with minimal shedding. Recommended for owners who do not want to deal with dog hair in their cars and homes. Shedding Min Hypoallergenic breed with minimal shedding. Recommended for owners who do not want to deal with dog hair in their cars and homes. Adaptibility Easy Well-suited for apartment living and does not need a yard. Active Low High Not much exercise is required to keep this dog in shape. MICRO & TEACUP NURTURING Micro-Teacup and Teacup puppies require the most care in the first two weeks after arrival. Making sure your puppy is eating every 2-3 hours is crucial starting as soon as your puppy arrives to their new home.
teacup kennel - Puppies for Sale
teacup kennel currently does not have any puppies for sale on PupLookUp.
Some more information about teacup kennel:
Yorkshire Terrier/Yorkie Puppy Breed Information
Yorkshire Terrier has its origin in the north of England in the middle of 19th century. It was developed for the job controlling of the rat population in coal pits and cotton mills. Puppies are almost black at birth, the coat clearing to steel blue with tan head and legs by one year.
Yorkshire Terriers are small-sized pups that have a weight that varies between 4 and 12-15 pounds. They have a "big dog" attitude, strong terrier instincts and a self-assured attitude.
Yorkie is an alert watchdog although it has a tiny size. Its silky coat and size are its unique physical characteristics. It barks at outsiders and is an excellent watchdog.
It is well-proportioned and well-suited to an active lifestyle. It can be either friendly and outgoing or unfriendly and aloof depending on its training. It can become spoiled and uncooperative if it is not properly trained. It is a social dog and it's important for it to know its own status in the family. Set limits and your pup will be a wonderful companion. Do not spoil it too much, take care to start its training when it is a pup.
Socialization makes it confident and outgoing instead of fearful and clinging. It is recommended that you expose it to every sight, smell, sound and sensation that you can. Introduce it to babies, toddlers, teens, seniors, other animals. Take it to parties and also leave it home alone.
When it reaches 6 months of age, join a basic obedience class to learn how to train it in a group situation. It will learn to walk at your side, come when called, sit and stay on command and learn how to learn. These aspects are essential for its further development. Try to be aware of opportunities to teach your Yorkie the rules you want it to live by.
Teach courageousness and praise your pet for being steady or moving toward whatever it deals with something new or threatening. Praise it when it has desirable behavior and ignore the behavior you don't like. It is a smart dog, but a little difficult to train because of its basic terrier nature and temperament. It is a bold, independent and tenacious small breed and performs best what it truly enjoys doing. Allow it to follow its natural bents. It is important to decode its behavior. If its head, ears and tail erect, it is enjoying itself.
Also, keep in mind that it's important for it to walk. Physical exercise will improve its digestion, circulation and attitude and it will have the chance to meet and greet, sniff and explore. Furthermore, frequent walking on rough ground keeps nails worn down.
Training it from earliest puppyhood to lay quietly in your lap will make grooming process easier. You should focus on eyes, ears, beard, teeth and nails, too. It needs an attentive hair care, so the daily brushing is important to avoid tangles.
Its amount of food depends on its size, age, build, metabolism and activity level and also on the food's quality. You should measure your pup's food and feed it twice a day in order to avoid the overweight. Because of the Yorkie's small body it can store limited amount of energy and it needs frequent snacks. It also needs to be protected against cold and wet weather.
It is likely to develop diseases such patellar luxation, progressive retinal atrophy or hypoglycemia when it passes through stressed periods.
Warning: When buying an animal, safely meet the seller in person. Never purchase an animal sight unseen.